Spring Vegetable Red Curry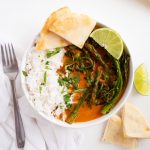 Ingredients
1 Tbsp sesame oil
1/3 cup minced shallots
1 Tbsp minced garlic
1 Tbsp minced ginger
1 Tbsp minced lemongrass
3 Tbsp red curry paste
2 tsp fish sauce
1 Thai red chili, minced (optional)
2 cups coconut milk
2 cups asparagus, chopped to 2" segments
1 cup peas
2 handfuls broccoli rabe
for serving: cilantro, lime, rice, naan
Instructions
In a large stockpot over medium heat, add the sesame oil, shallots, garlic, ginger, and lemongrass. Cook for 3-5 minutes, mixing with a wooden spatula.
Add the curry paste and cook, stirring, for 3 more minutes. It's okay if it darkens and sticks to the pot a bit.
Add the Pacific Foods Organic Tomato Sauce and use your spatula to vigorously scrape off any bits of curry paste stuck to the pot. Bring to a simmer, and reduce the heat to medium-low, then add the fish sauce and Thai red chili.
Let simmer for 10 minutes, to build flavor, before adding the coconut milk. Bring back to a simmer, add the vegetables, cover, and let cook for 5-7 minutes — until the rabe is softened enough to be eaten, but still has some crunch.
Remove from heat, season to taste with salt and pepper.
Serve topped with cilantro and lime, alongside rice and/or naan.