Monday, Monday. Shouldn't we be able to sleep in on Monday? They're tough enough as is, so I vote for an extra hour or two of sleep.
We got back from my cousin's beautiful Midwest wedding late last night, and now I feel like I need a few days to sleep and get back to normal! The entire family went to Ohio, and we had a really great time! I had my first experience with a Great Lake (Erie), saw friends and family I rarely see, and loved the entire ceremony and reception — they did a beautiful job.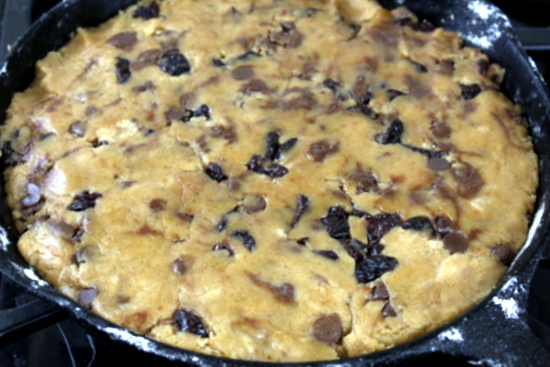 As wedding season is in full swing, let me give you a tip: make this giant cookie before you travel to the wedding, and if (somehow) you don't finish it before you leave, take it with you! People will start devouring it ASAP, and you'll save yourself from perishing away after your early morning flight. True story here.
Not only is this cookie made in one pan, with one utensil, it has brown butter and cherries to make the chocolate chip cookie even better! You'll start by browning the butter. This is easy, just keep an eye on it so you don't accidentally blacken the butter… you don't want that.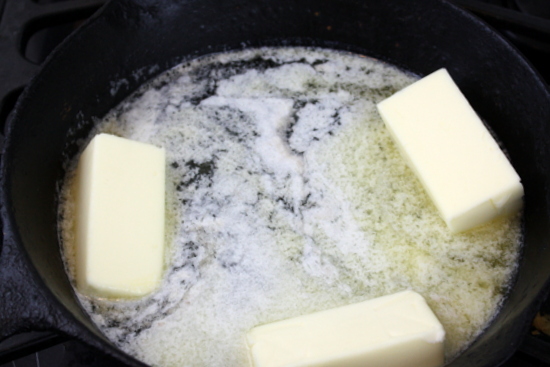 Once the butter is brown and beautiful, add the sugars. At this point, you'll probably be dying because the smell is TOO GOOD. I'm not kidding, it was almost an emotional experience. It's more exciting than unicorns and blue whales and dinosaurs in the same place. So try not to eat it all at this point.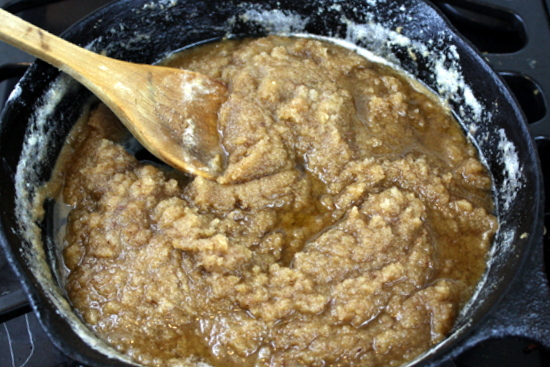 After the butter cools down a bit, add the rest of the wet ingredients for a super smooth batter.
Then you'll stir in the flour and baking powder — I did this in batches to make it easy, and so as not to over-mix.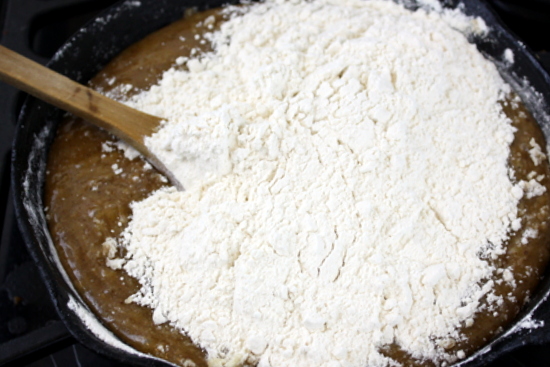 Finally, add the dried cherries and chocolate chips, bake it up, and enjoy! Make sure you have some ice cream around — this is one rich cookie, and the ice cream means you can eat more, obviously.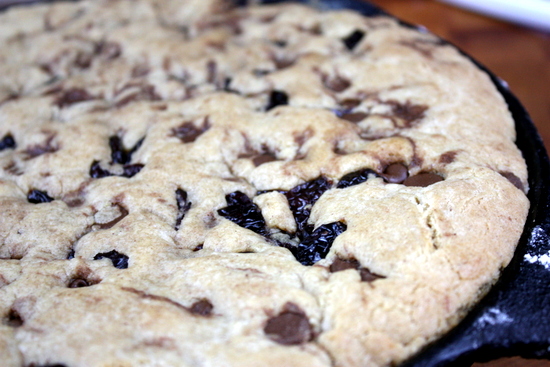 Brown Butter Cherry Chocolate Chip Skillet Cookie
Inspired by How Sweet It Is and Joy the Baker
3 sticks unsalted butter
1 1/4 cups granulated sugar
1 cup cup brown sugar
1/2 tsp salt
2 large eggs
1.5 tablespoon pure vanilla extract
3 1/4 cups all-purpose flour
1 teaspoon baking soda
1 1/2 cups chocolate chips
1 cup dried cherries
*Note: My skillet is large (10 inch) and I wanted a super thick cookie, so this is a HUGE amount of cookie dough. If you have a smaller skillet, do 2/3 of this recipe.
In your skillet, over medium heat, melt the butter. After it foams and crackles, watch it closely until it begins to brown (you will smell it!), then turn off the stove. The skillet will be hot, and continue browning the butter a bit longer once you turn off the heat.
Preheat the oven to 350 F.
Add sugars to the pan and stir until smooth. Let this mixture cool for about 10 minutes before proceeding. During this waiting period, you can combine the flour and baking soda in a small bowl, and cut your dried cherries (optional) to your desired size.
Stir in the salt, then add the eggs one at a time — stir until smooth. Add the vanilla, and then the flour mixture. Be patient with the stirring process, and don't over-do it. Add the chocolate chips and dried cherries, then stir to incorporate.
Bake for 20-25 minutes. The edges will be set and starting to turn golden, but the rest should look pretty underdone: it will continue to cook! Trust me on this one.
Top with ice cream and eat!