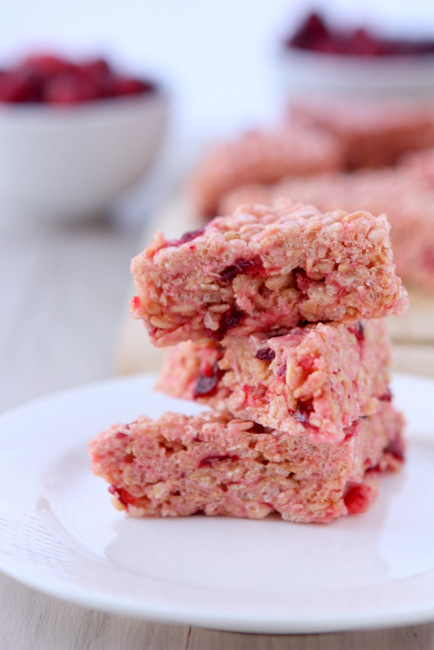 Holiday paralysis has hit me! I should be producing all sorts of lovely gift guides, cookie compilations, blah blah blah, and yet I'm stuck in indecision on what to do next! Last week I had a brilliant idea to host a cookie decorating party, take pictures of everything, then blog about how to throw a cookie decorating party; however, the time came to start snapping pictures and I just didn't feel like I could do it justice! You'll still probably get some cookie recipes out of the deal, but not grand decorating party ideas. Sorrrrrry.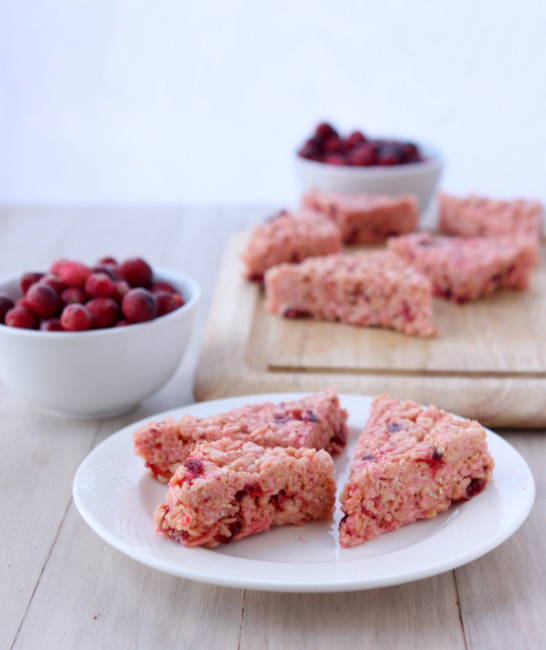 This week is looking to be much more productive — perhaps you'll see some gift guides out of me after all! If only I knew what to get the people I actually buy presents for. Oof. Again, paralyzing indecision.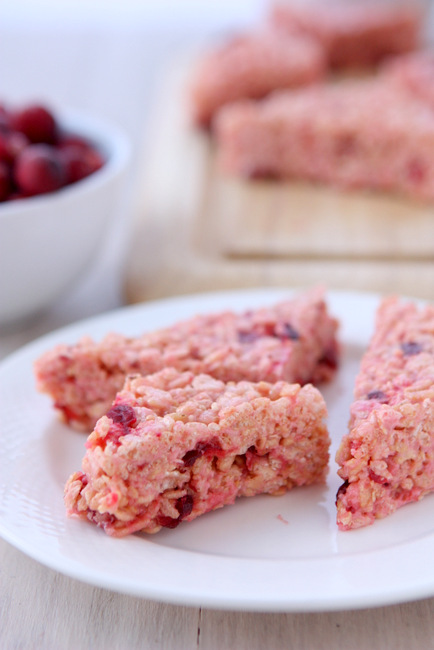 To get us started down the holiday road, I present to you: Cranberry Brown Sugar Crispie Treats! These were a last-minute inspired treat I cooked up a few weeks ago when I was craving rice crispie treats. I had some cranberries sitting there, and just barely not enough rice crispies to make it work (the recipe reflects how they SHOULD have been), and decided this had to happen. Last year I discovered how much I LOVE cranberries (mostly due to these cookies), so I've been excited to use them again this year!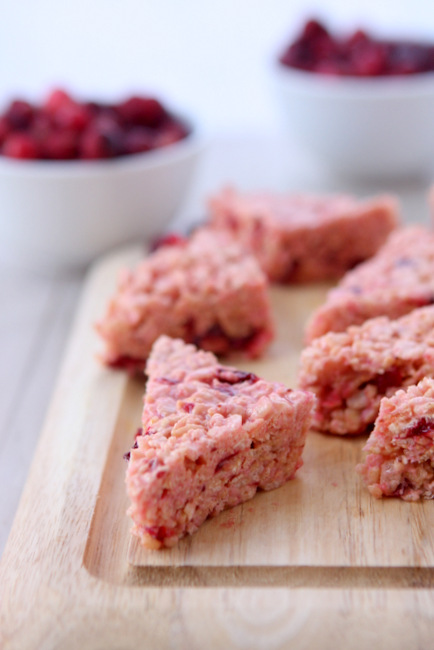 Basically all you have to do for this recipe, versus a normal rice crispie treats recipe, is cook down the cranberries before adding the marshmallows, then the cereal. Easy shmeazy. These turn out so pretty and pink — they almost look like they're peppermint!
Print Cranberry Brown Sugar Crispie Treats
Author:

Prep Time:

5 mins

Cook Time:

20 mins

Total Time:

25 minutes
---
3 Tbsp

butter (plus more for pan)

1 cup

fresh cranberries, roughly chopped

2 Tbsp

brown sugar

1

bag (10 oz) marshmallows

6 cups

puffed rice cereal
---
Instructions
Butter a 9×13 baking dish and set aside.
In a large saucepan over medium heat, melt the butter. Add the chopped cranberries. They will soften and become more liquid. Keep cooking until they've reduced a bit into a thicker mixture — about 10 minutes.
Add the brown sugar, stir to incorporate, then add he marshmallows.
Stir the marshmallows into the cranberry mixture and continue cooking until they've fully melted into a homogenous goop.
Remove from heat and carefully mix in the cereal. Once it is entirely coated, pour into the prepared pan. With wax paper, or buttered hands, press the mixture firmly into the pan.
Allow to cool completely before cutting.
---