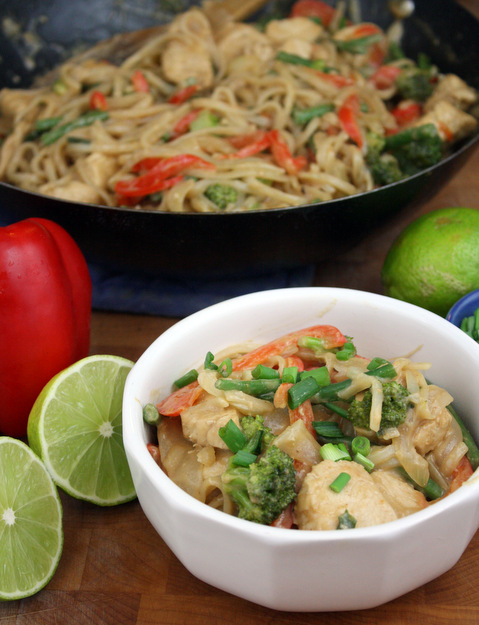 I realize that I've been bombarding you with sugar. Granted, I threw in some fruit (and sugar) with banana cookies and pies, but I realize I'm still totally heavy on the desserts. And so, I give you: REAL FOOD.
Stir fry is one of our main "go to" dinners: we always have at least a few varieties of veggies on hand, and usually some tofu or chicken to throw in as well. The one thing that used to put a damper on stir fry was not having enough sauce! You know those store-bought stir fry sauces (we like Spicy Szechuan or something Peanut), that cost about $5 per bottle. It's ridiculous. Thus I've taken to making our own — which I honestly don't know why I didn't start doing earlier.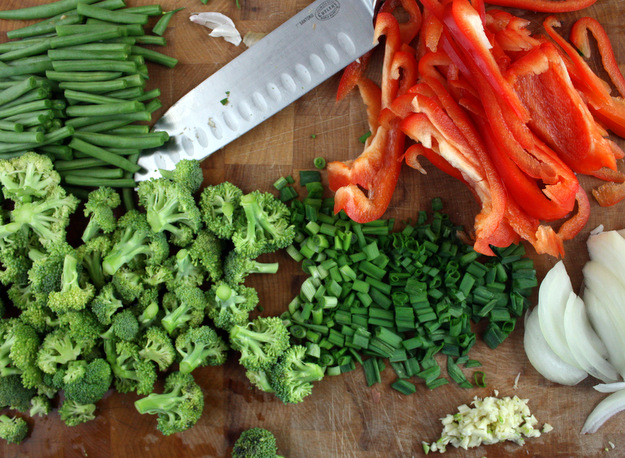 I had a lot of veggies on hand this week, so we started with garlic, onions, green onions, red pepper, broccoli, and green beans. YUM! Other great ingredients are carrots, asparagus, snap peas — you can go anywhere you want here.
Start by heating up some sesame oil in a wok. We need a new wok… (HELLO REGISTRY!). Add the garlic!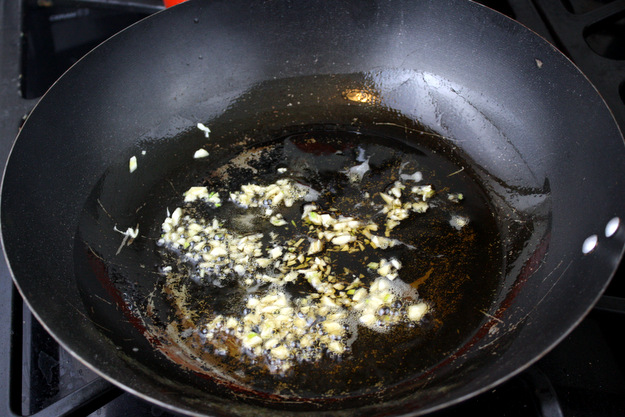 Next you're going to add some of the peanut sauce you've already whipped up, and the chicken. Cook it just enough to not see any exposed pink chicken!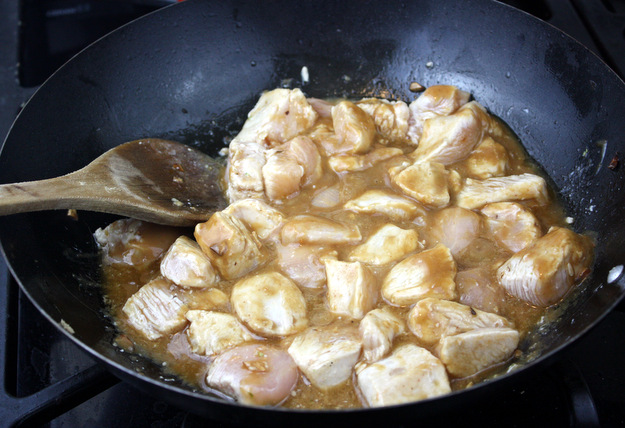 Add the onions and cook for 3-5 minutes.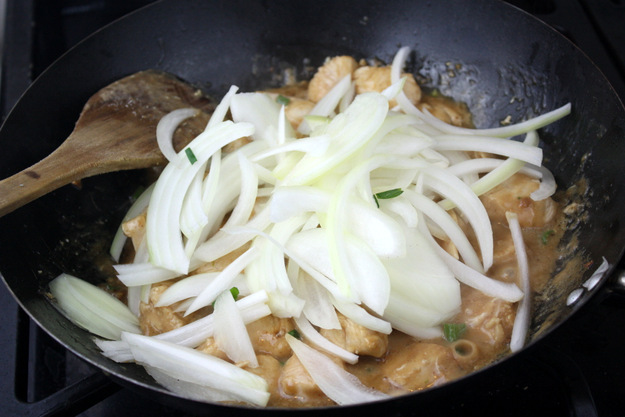 Add the rest of your veggies! I don't enjoy a really crunchy stir fry, so I let my veggies cook for a good 7-10 minutes. Stir every once in a while, but mostly just let it cook with the lid on!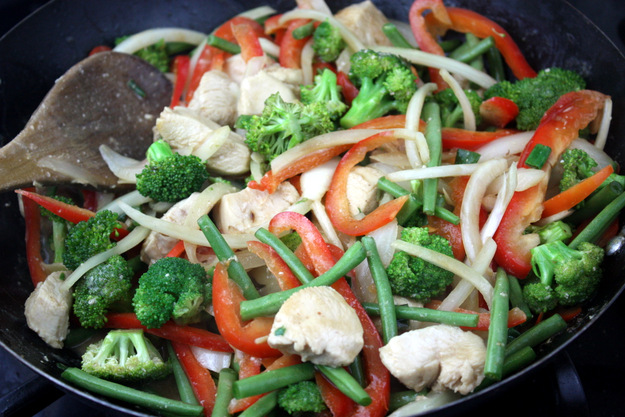 While your veggies are cooking, you'll cook up some rice noodles. When they're ready, add them and the rest of the sauce to the pan! You'll have a lot of liquid in the pan at this point, so mix the noodles in and let them soak a bit of it up.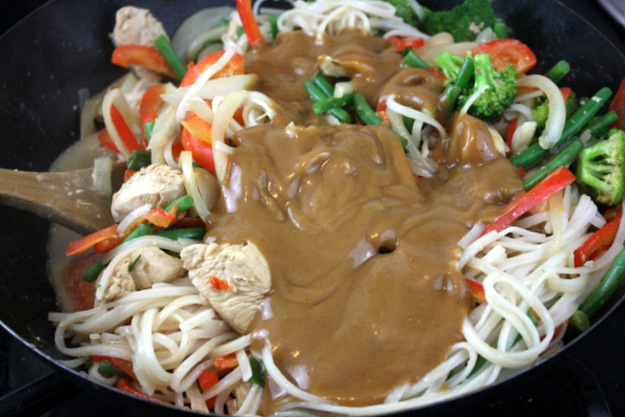 I love serving stir fry with a big squeeze of lime and a hefty handful of cilantro thrown in — it can't be beat!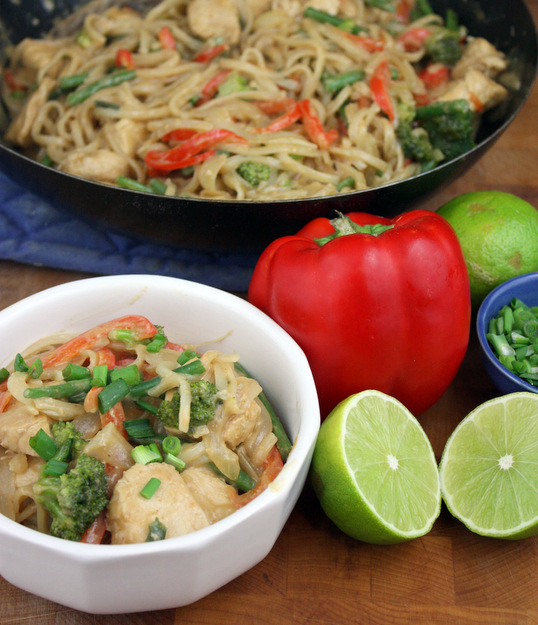 Peanut Ginger Stir Fry
Sauce
1 cup smooth, natural, peanut butter
1/4 cup soy sauce
1/4 cup chicken broth
2 Tbsp grated fresh ginger root
2 Tbsp brown sugar
1 Tbsp rice vinegar
Stir Fry
sesame oil
3 cloves garlic, minced
1 medium onion, chopped
1 red pepper, chopped
1/2 cup chopped green onion
2 cups broccoli florets
1 cup chopped green beans
2-3 chicken breasts, cubed [or Tofu, cubed and dry cooked ahead of time]
8 oz uncooked rice noodles
Start by making up your sauce: heat the peanut butter until warm and very runny. Mix in the rest of the sauce ingredients — do not worry if it looks funny/separated at first: just keep mixing. Set aside.
Start a pan of water boiling for the noodles while you start the stir fry. As soon as the water is boiling, add the noodles, turn it off, and set the timer for 10 minutes. When 10 minutes is up (this will be while you're cooking the stir fry), drain the noodles and toss with sesame oil so they don't stick together while you're finishing the veggies. The noodles don't need to be 100% done, but should be considerably softened.
In a large wok, heat 3 Tbsp sesame oil over medium heat. Once hot, add the garlic and cook for 1 minute before adding 1/3 of the sauce, and the chicken. Cook until each side of the chicken is seared — it does not need to be cooked through. Add the onion and cook for 3-5 minutes before adding the rest of the vegetables. If it seems dry at this point, add a little bit more of the sauce. Cook until you veggies are starting to soften, or already a bit soft (depending on how you like your stir fry). Keep in mind you will keep cooking for another 5 minutes.
Add the rest of the sauce and the cooked noodles, and stir to fully incorporate. Cook for another 5 minutes to allow the noodles to soak up some sauce.
Serve garnished with more green onion, lime juice, and chopped cilantro. Crushed peanuts are a nice garnish too, if you have peanuts on hand!