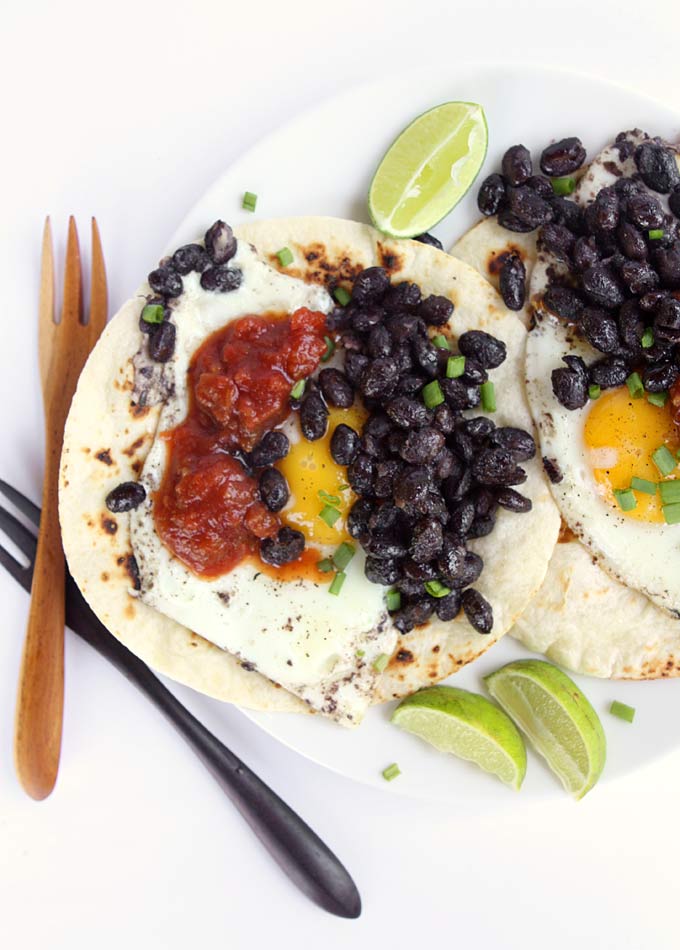 I'm in the best possible rut ever: HUEVOS RANCHEROS! Last week, I managed to have them 5 of 7 breakfasts. Catapulted by a ridiculously delish brunch out, and then by having made these tacos and having leftover beans, huevos rancheros = MY JAM.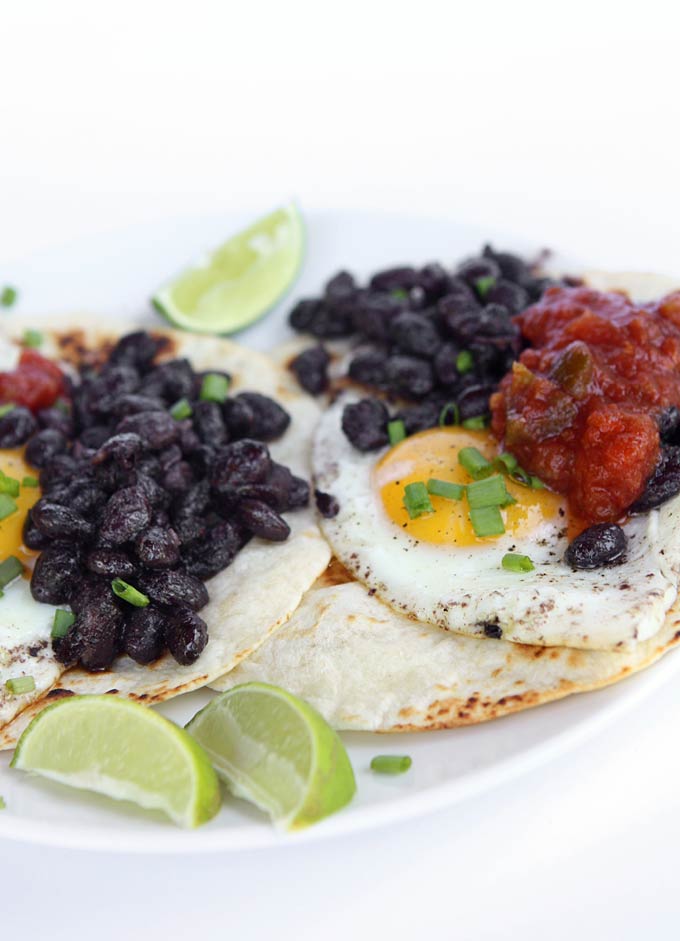 I realize huevos can vary greatly — whole beans, refried beans, various styles of eggs, added veggies, cheese, etc. This recipe is for my no-nonsense 5 minute huevos that you KNOW I would have put cheese on, were cheese an easy thing to buy in this part of the world. (sadface).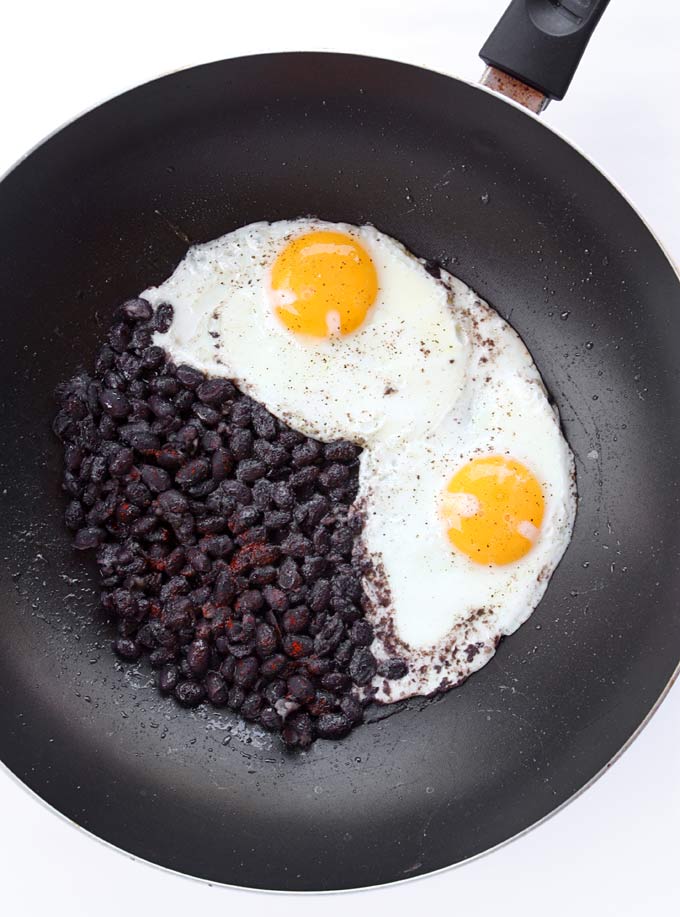 Really, my Mexican food kick is fueled partly because (duh) I love Mexican food, but mostly because I saw/finally caved and bought salsa at the grocery store last week. There is one aisle, which I like to call the "Western Food Aisle", at our local grocery store which has things like barbecue sauce, pesto, spaghetti, etc. I'm not sure if I'd never really noticed the (jarred) salsa before, or if I was discriminating against it because I never buy the non-refrigerated kind at home… but I finally caved AND OMG THANK THE LORD I DID. I came home and ate approximately 2 bags of tortilla chips in a darn hurry. Then went back and bought more salsa. Now I'm afraid they'll run out because I'm buying it all and they don't actually re-stock this section of the store very regularly… YIKES.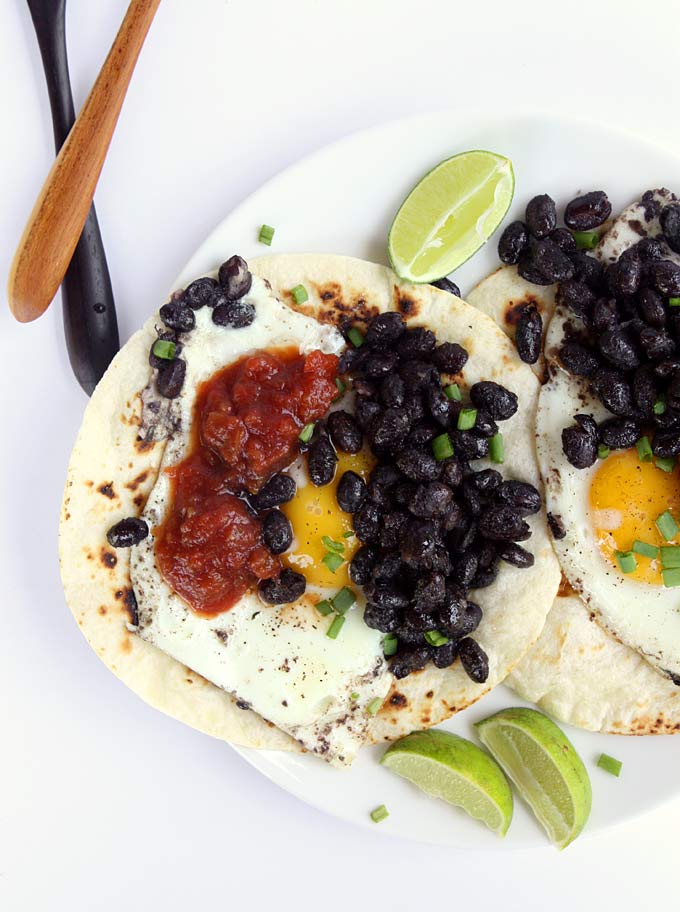 So this recipe was a vehicle for leftover beans (yum), delish salsa (!!!), and my ever-present love of tortillas. The runny egg yolks are just a bonus! I fully intend to do some more huevos rancheros research once I have an oven… I foresee this being a go-to breakfast for me! (Also, sorry/notsorry this is turning into a breakfast blog? I just CAN'T STOP WITH THE BREAKFAST FOOD!).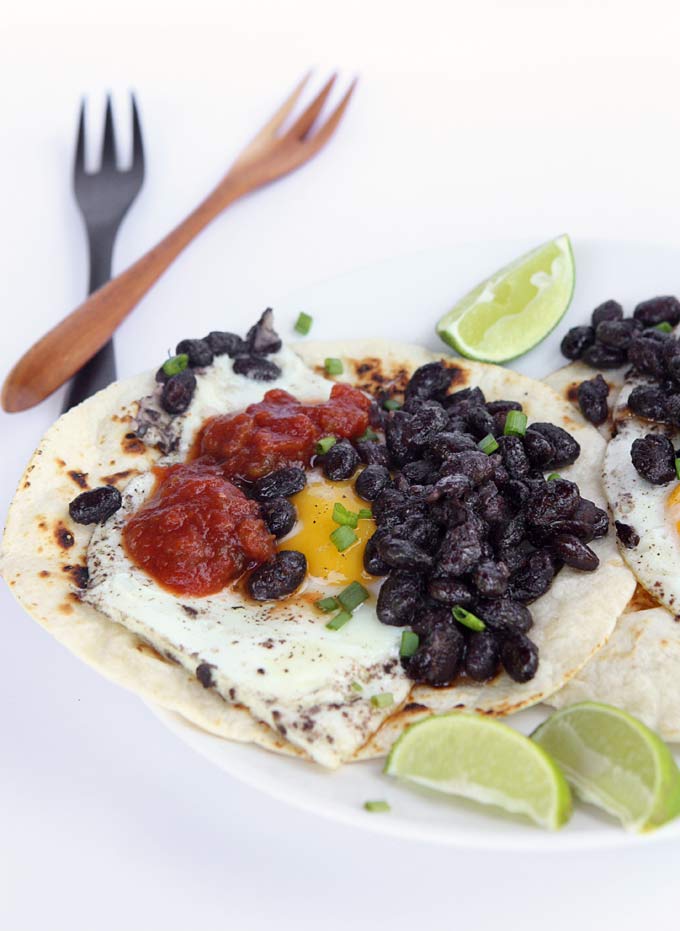 Print 5 Minute Huevos Rancheros
Author:

Cook Time:

5 mins

Total Time:

5 minutes

Yield:

1

1

x
---
1 tsp

cooking oil

1/2 cup

cooked black beans
salt & pepper

1/4 tsp

cayenne pepper

2

large eggs

2

small flour tortillas
salsa for topping
---
Instructions
In a large skillet over medium heat, add the cooking oil. Once warm, add the beans with a sprinkle of salt, pepper, and cayenne. Stir, cooking, for 2 minutes.
Push the beans to one side of the pan, so they continue to cook and warm through, leaving enough room to fry the eggs in the rest of the pan. You can reduce the heat to medium-low and cover, if you want.
While the eggs are cooking, warm and char the tortillas over a flame.
When the eggs are done, layer the tortillas with the eggs, beans, salsa, and any other toppings (avocado, cheese, chopped tomatoes) you want.
---