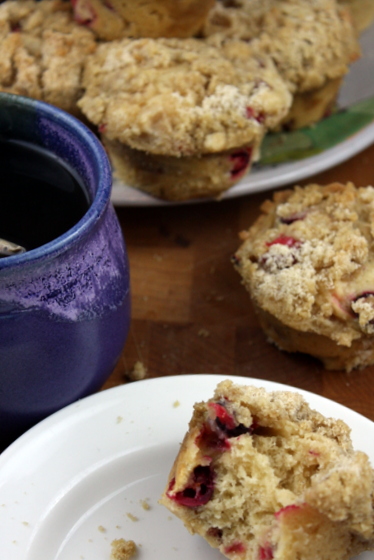 Remember how I said I was on a cranberry kick? Yeah, I really am. I have WAY more cranberry to throw at you before this holiday season is over. GET EXCITED!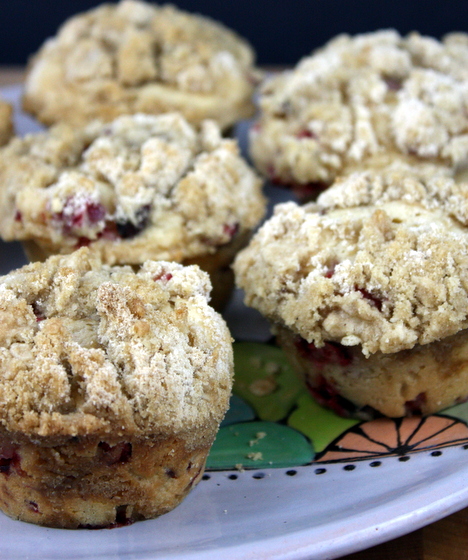 First things first: have you ever chopped a cranberry? A real, fresh, whole cranberry? It's better than bubble wrap! I might have had a little bit TOO much fun chopping cranberries, and perhaps found the newest brand of therapy. Try it. It's so rewarding!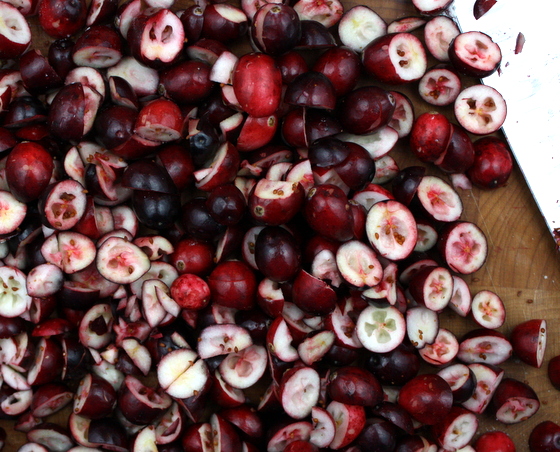 Also rewarding? Making streusel.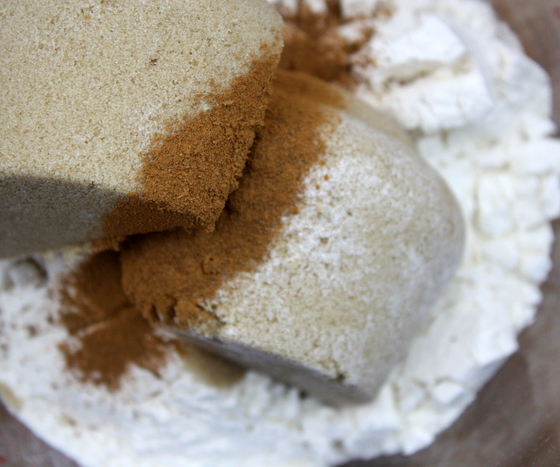 You all know by now that muffins are really popular in this household. They might even be more popular than cookies, which I know you're thinking is completely impossible. They're like miniature cakes, and seeing as we are pie people, why would we like muffins? Well I'm not here to make any sort of cake vs. muffin revelation, but I'll tell you one thing: every time I make muffins, they're gone within 24 hours. No joke. It's absurd!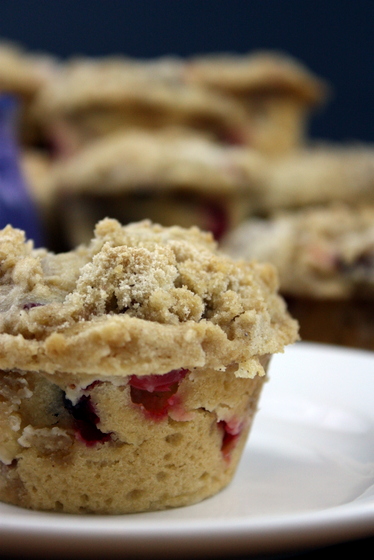 These muffins were no different: gone in a flash. I used the same base as I usually do (sweet, fluffy, delicious), added some lemon zest into the sugar, and BAM: RIDICULOUSLY AWESOME MUFFINS!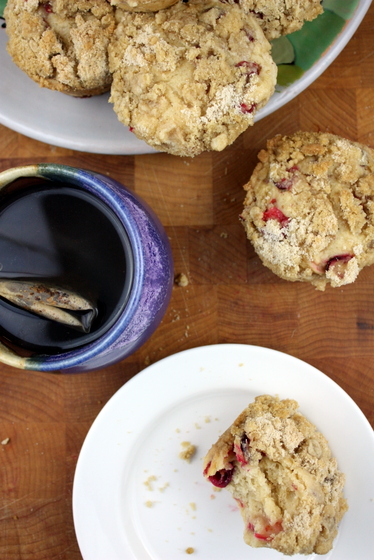 Lemon Cranberry Streusel Muffins
2 1/2 cups flour
2 tsp baking powder
1/2 cup butter, room temperature
1 cup sugar
2 Tbsp lemon zest
3 eggs
1 tsp vanilla
1 1/2 cups sour cream
1 1/2 cups fresh cranberries, chopped
3 tablespoons sugar
For streusel:
1/2 cup light brown sugar
1 Tbsp cinnamon
1 cups flour
3/4 cups butter, softened
Start by making the streusel: combine 1/2 cup brown sugar, 1 Tbsp cinnamon, 1 cup flour, and 3/4 cup butter. Use your fingers to combine it until flakey and pea-sized. Store in the refrigerator until you need it.
For the muffins, preheat the oven to 350 F.
Combine flour and baking powder together in a bowl, and set it aside.
With clean fingers, rub the lemon zest into the sugar until fully incorporated. Cream butter and sugar together until light and fluffy (at least 3-5 minutes), scraping down sides of bowl. Add eggs, one at a time, and mix until incorporated. Mix in vanilla extract, then sour cream. Gently stir in the flour mixture until almost incorporated. Toss the cranberries and sugar together in a bowl, then gently add to the batter. Spoon the batter into lined or greased muffin tins.
Put a generous amount of streusel topping on each muffin, and then bake for 22-25 minutes, or until a cake tester comes out clean. Let the muffins cool in the tin for a few minutes before gently moving to a cooling rack.