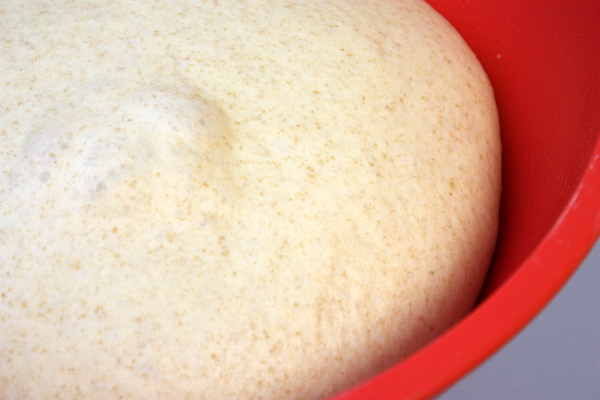 I love pizza. LOVE. I could eat it many meals per week – and in the rare event that I order food from somewhere: it's always pizza. I suppose if I lived in a big city with plenty of decent options I would branch out and get Thai or Chinese as well, but Bozeman isn't exactly a culinary hotspot of variety. I suppose I shouldn't write it off yet though – I'll keep my taste buds out there. We do seem to go back to the best restaurant in town time after time, because it's is just so darn good! That may have something to do with their gourmet pizza…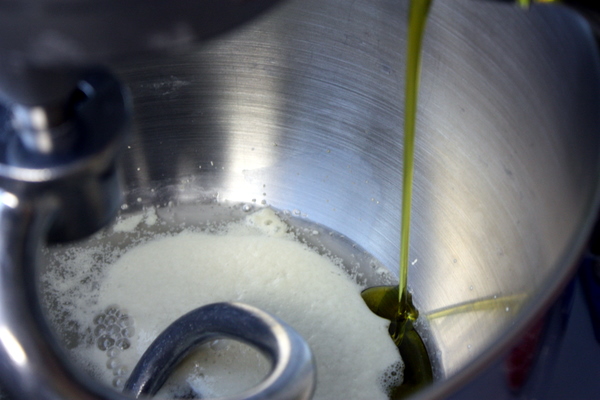 Back to pizza. Making pizza always feels fun – kind of like something you really shouldn't be doing, because if it's so awesome it can't be allowed, right? This dough has been made countless times in my kitchen (thanks to my Mama for the recipe, and for it being made countless times in HER kitchen), and has never failed me. It makes enough for two pizzas, so I usually freeze half of it and then pull it out the day I'm going to make pizza again. Perfect!
Pizza Dough
Recipe from my Mama
1 1/2 cups warm water (105-115 degrees)
2 Tbsp sugar
2 1/4 tsp active dry yeast
3 Tbsp olive oil
1 tsp salt
2 2/3 cups flour
1/3 cup vital wheat gluten (gluten flour)
Combine water, sugar, and yeast in a large bowl and let proof 5 minutes. In a separate bowl, mix the flours and salt together. Add olive oil and flour mixture to the proofed yeast all at once, and stir to combine. Turn out (or knead with a machine) onto a floured surface and knead for 10 minutes, adding flour as necessary – it will be a sticky dough.
Place dough into an oiled bowl and cover. Let rise one hour, or until doubled in size.
Turn dough out and cut it in half – at this point you may freeze half in a sealed container (I use a ziplock). Fold the remaining dough, and place back in the oiled bowl to rise again for 45 minutes – or several hours in the refrigerator.
When the dough is ready, toss (or roll) it into your desired shape, add your toppings and bake at 500 F for about 8 minutes.
Notes and Tips:
I use 2 cups of all purpose flour and 2/3 cup of wheat flour in my dough, but I know some people avidly oppose wheazza, so use whatever combo you'd like. The gluten flour is key though for making a chewy, puffy crust.