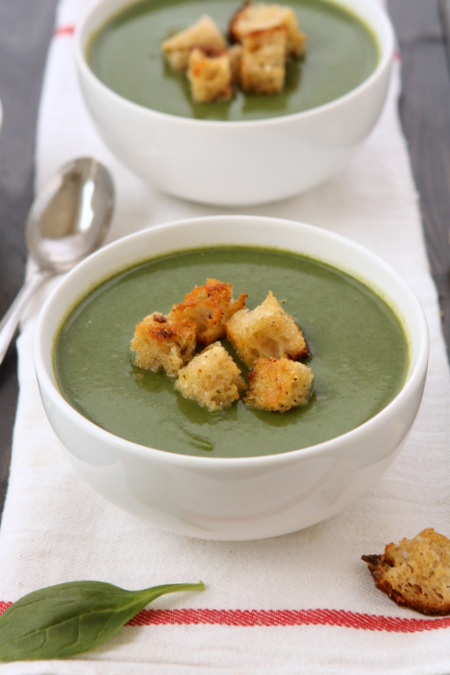 It's been two weeks and I'm pretty sure I haven't even mentioned the Olympics yet. WHAAT!? I LOVE the Olympics!! I'll admit, I'm much more a fan of the summer Olympics, but the winter Olympics still fascinate me. Slope style?? CRAZY. How do you even make your body do that!? Speed skating? Terrifying. Watch your fingers. While it isn't my favorite, ice-skating: super impressive. #twizzles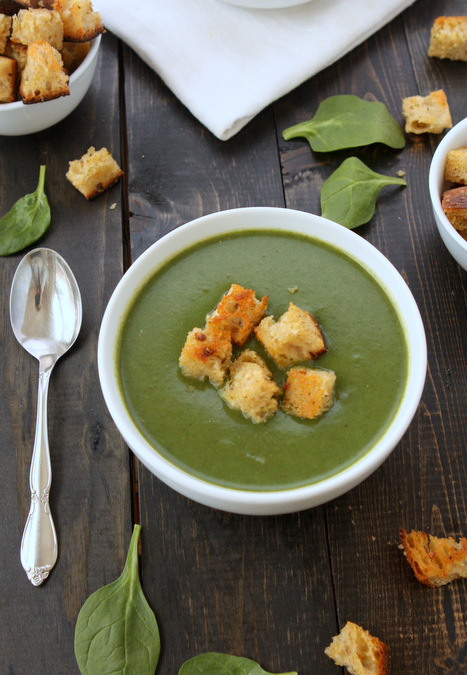 We bought a TV two years ago for the sole purpose of watching the summer Olympics in London, and it honestly hasn't been used much since then. For the last two weeks it's been on every night to watch Bob Costas and the amazing athletes in Sochi. Side note: I love Bob Costas. Seriously, he is THE MAN. {edit: This is for his Olympics-announcing, not necessarily his personal choices.} I felt so bad for him with his eye infections last week!! Glad to have him back! Also, what the heck does Bob do between Olympics?? I genuinely don't know. I'm sure I'll go ask the google shortly…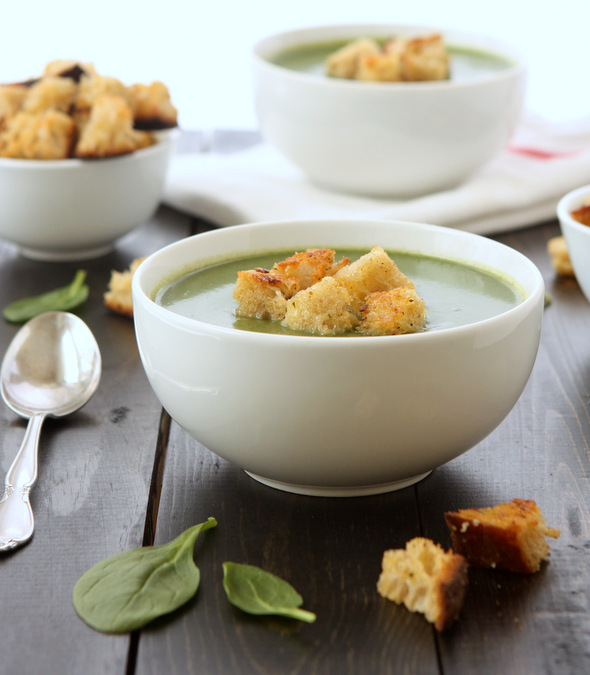 I'm no super-athlete, but I do sometimes wonder: if I'd lived near a bobsled hill, and my parents had let me pursue bobsledding… COULD I BE AN OLYMPIAN!?!? I'm going to say yes. Definitely. If not bobsled, I'll claim luge. I could luge, right!? Right. Let's roll with it. Skeleton, though, TERRIFYING. I consider myself semi-brave when it comes to sports, but skeleton seems like a really fantastic way to break your neck. I'd love to avoid that, if possible.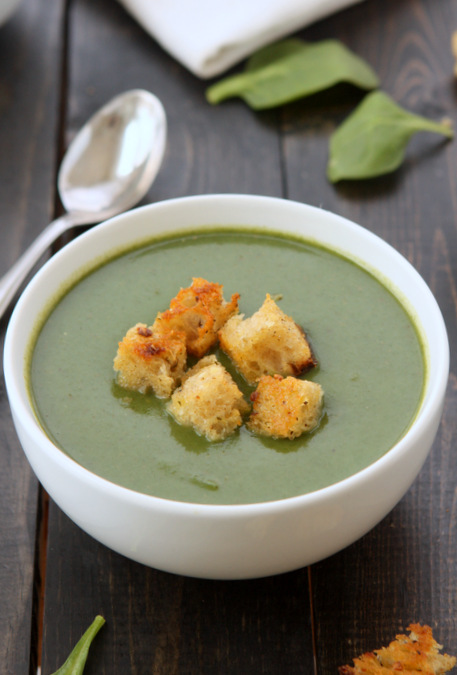 So, as I sit on the couch eating my cookies and cakes and endless bean/cheese dip, I imagine my life as an Olympian. Maybe I should be practicing my curling around the house (by cleaning). Doubtful. Instead, I occasionally make something healthy. "HEALTHY!?!" you say? Yes, healthy. This soup is, without a doubt, healthy. And freaking delicious.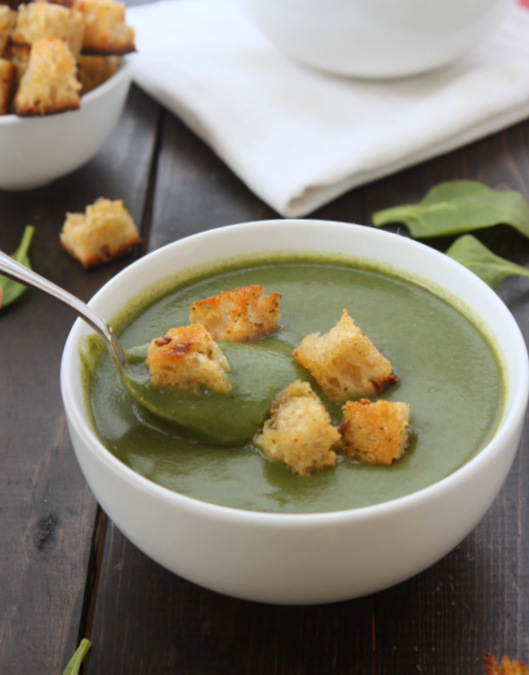 This soup came about because I got behind on my spinach consumption. Ha! How often do you hear that sentence? We buy the HUGE bags of spinach at Costco, I think they're 10 (thousand) pounds each. Usually I'm good about working through it, either with smoothies, spanakopita, stir-fry, or salads. This time, I let it sit for a week before I even touched it. OMG. Time to use it up in a hurry! This soup seemed like the perfect way.
I'll admit, I was super skeptical about this soup. I thought it might taste really "green" — you know what I mean? I was also worried the texture would be really boring. Man, was I wrong! First, the taste was perfect. The potatoes really complimented the spinach, with the rosemary and garlic to make it all blend amazingly. The texture was mesmerizing. I spent more time that I'd like to admit dipping the ladle in and out of the pot just to watch the soup slide gently off of it. Weirdo? Yes. It's ok.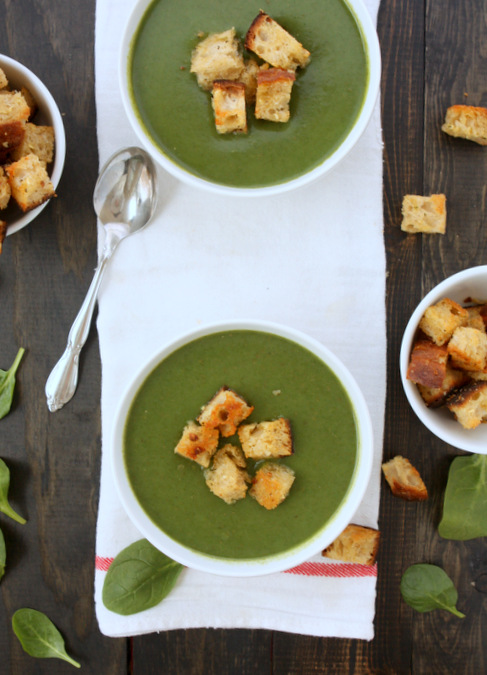 The croutons are an entirely separate story. You might remember how much I LOVE LOVE LOVE croutons. With all of the bread I've been making lately, sometimes making croutons is a necessity to save a neglected loaf. I'm not complaining! I could eat croutons as a meal in and of themselves. These are slightly different than my spicy garlic croutons — with the addition of rosemary, and the absense of crushed red pepper. You could totally add crushed red pepper if you're into spicy. Now I'm craving spicy red pepper rosemary garlic croutons! Long name! S.R.P.R.G.C. You'll get what I mean when I pull out that acronym, ya? Glad you're with me.
Print Spinach Soup with Rosemary Garlic Croutons
Author:

Prep Time:

10 mins

Cook Time:

25 mins

Total Time:

35 minutes

Yield:

4

-6

1

x
---
2 cups

1/2-inch cubes artisan white bread

4 Tbsp

butter

3 Tbsp

olive oil

2

cloves garlic, minced

1 Tbsp

finely chopped fresh rosemary, or

1 tsp

dried

1 Tbsp

butter

1

medium onion, coarsely chopped

1

clove garlic, minced

1 Tbsp

finely chopped fresh rosemary, or

1 tsp

dried

3 cups

diced russet potatoes (about 2 large potatoes, or

3

–

4

smaller ones)

4 cups

chicken or vegetable broth

6 cups

fresh spinach or chard leaves, tough stems removed
salt & pepper to taste
---
Instructions
Preheat the oven to 375 F.
Mince the garlic cloves as finely as possible, almost grinding to a paste.
In a microwave-safe dish, combine the butter, olive oil, and garlic. Microwave for 30 seconds, then in 10-second increments until the butter is fully melted. Mix well, and add the chopped rosemary.
In a large bowl, toss the bread cubes with salt, pepper, and the butter mixture until fully coated.
Spread the coated bread cubes onto a parchment-lined baking sheet in a single layer. Bake for 13-15 minutes, or until golden brown.
While the croutons are cooking, make the soup!
In a large soup pot, melt the 1 Tbsp butter. Add the onion, garlic, and rosemary. Cook for 3-5 minutes, until the onions are translucent.
Add the potatoes, and cook for 3 minutes before adding the broth.
Bring to a boil, and cook until the potatoes are fork-tender (15 minutes).
Add the spinach, one handful at a time, and stir until it is all wilted. Cook for another five minutes before removing from heat.
Use an immersion blender, or a normal blender in batches, to blend the soup until completely smooth. Season with salt and pepper to taste.
Serve with the croutons.
---