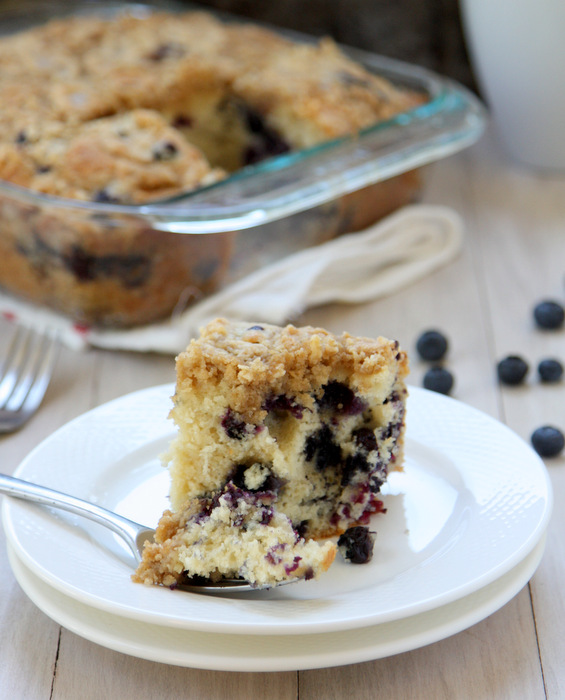 It must be my pre-wedding lovey-dovey nature in full bloom here, because I'm on a roll making things *specifically* for Derek. Peanut butter cookies, cookies not yet documented here, and now this piece of blueberry muffin goodness! I guess with a guy as cute as he is, I can't help it. And he says things like "I can't believe I convinced a hot blonde girl to marry me!" Winner. #lessthan2weeks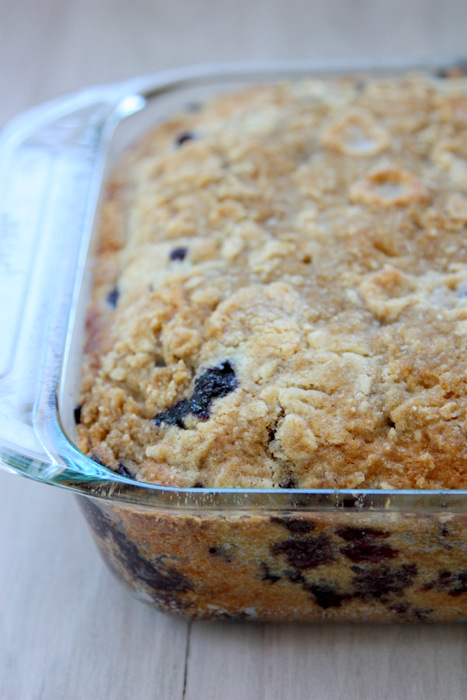 Back to the point. I know I've mentioned before that Derek always requests two things: sushi salad, and blueberry muffins. Without fail, I know I can make those things and Derek will be OVER THE MOON. So, after 2.5 weeks of having no oven, what's the first thing I make? Of course, something along the lines of a blueberry muffin! I was tempted to just make the tried and true brown butter blueberry muffins, but have been really wanting to make a coffee cake for a while now. Um, isn't coffee cake essentially a muffin in a baking dish, right? Right. Totally.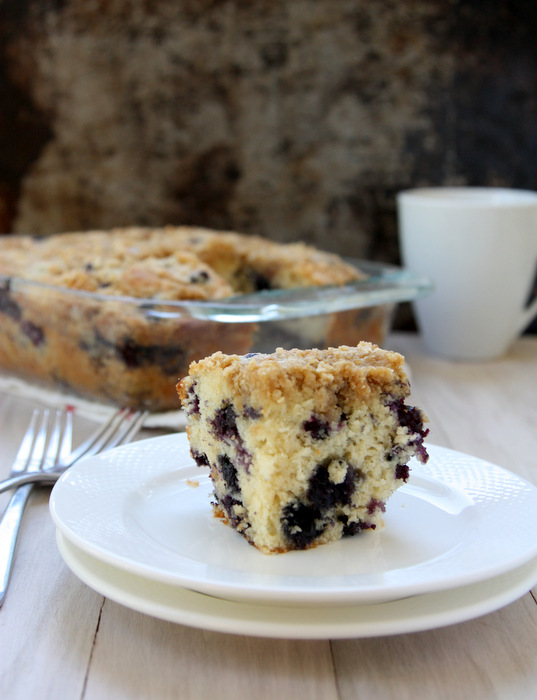 Needless to say, our new oven works spectacularly! It passes my oven-standards test with flying colors. And lots of flavors. I can't tell you how therapeutic it was to finally put this (simple!) recipe together and know I would soon pop it in the oven. I've always known baking is my "go to" de-stressor, but I've never actually had such a specific experience to prove it. After feeling a bit "blocked" in my creative processes, and lazy in regards to getting anything done, while the oven was broken… as soon as I started mixing together the batter for this cake, my energy was back! I felt like superwoman! I wanted to clean the whole house! Bake ALL the things! Get the whole damn wedding figured out! In a word, I was back. BOOYAH.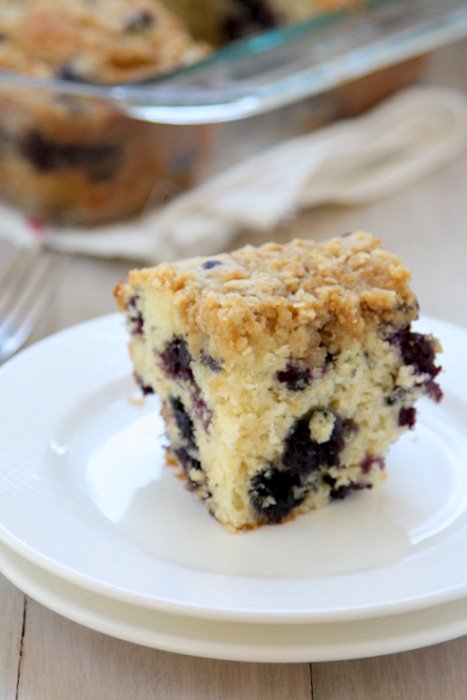 Perhaps it's just this cake, specifically. So maybe you're feeling a little be blocked, like you need a kick in the pants to get your ducks in a line again. Give this coffee cake blueberry muffin hybrid a go, perhaps you'll find yourself with a bunch of completed projects and a very clean house! Then you can come to mine, since I didn't quite get to that house-cleaning part…
Print Blueberry Muffin Coffee Cake
Author:

Prep Time:

10 mins

Cook Time:

35 mins

Total Time:

45 minutes
---
2 cups

flour

1½ tsp

baking powder

3/4 tsp

salt

10 Tbsp

unsalted butter, room temperature

¾ cup

sugar

2

eggs

2 tsp

vanilla

1/2 cup

milk

2 cups

blueberries

6 Tbsp

unsalted butter, cold

½ cup

flour

3 Tbsp

brown sugar
---
Instructions
Pre-heat the oven to 350 F. Butter a 8×8 square baking dish.
Combine the flour, baking powder, and salt. Set aside.
Using a mixer, cream the butter and sugar together until light and fluffy. Add the eggs, one at a time, mixing fully to incorporate.
Add the vanilla and milk, mix to combine, then add the flour and mix until just combined. Gently fold in the blueberries.
Spread the mixture in the pan.
In a small bowl, combine the remaining cold butter, flour, and brown sugar. Using your fingers, combine until the butter is in pea-sized pieces. Sprinkle over the top of the batter.
Bake for 35 minutes, or until the top is golden and a cake tester comes out clean.
---