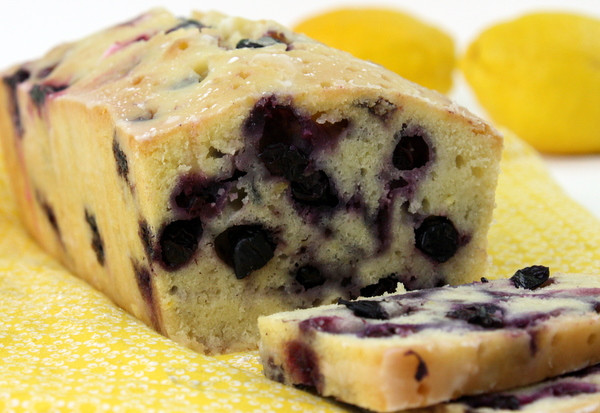 I had planned to post the recipe for the best bread I have ever made in my life today; however, I realized I've been over-souping you guys lately and should probably give you a sugar jolt. You're welcome. Bread to be posted in the near future!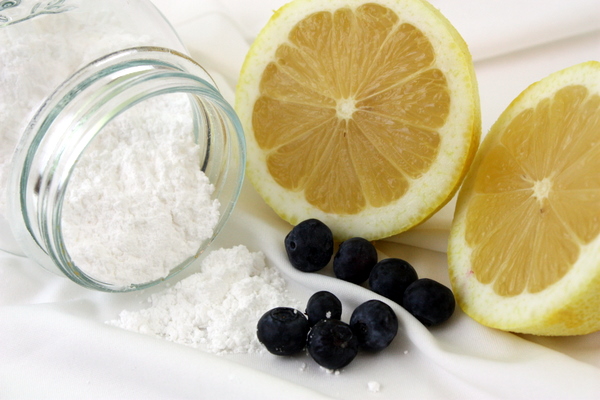 Apparently I can't get enough pound cake in my life. I keep making it… and keep finding more variations to try! This combo isn't ground-breaking, but it certainly is one of my favorites. We joined Costco this last weekend and, besides having way too much fun, bought some really disappointing blueberries. We should have known: it's winter, and these certainly didn't come from anywhere near us. After trying to eat them Oregon-style (read: how we ate berries in mass quantities while we were in Oregon this summer) we threw in the towel: they just weren't quite worth it. Perhaps I shouldn't be admitting to you that I baked something with a sub-par ingredient, but they definitely taste better now that they're covered in a lemony pound cake!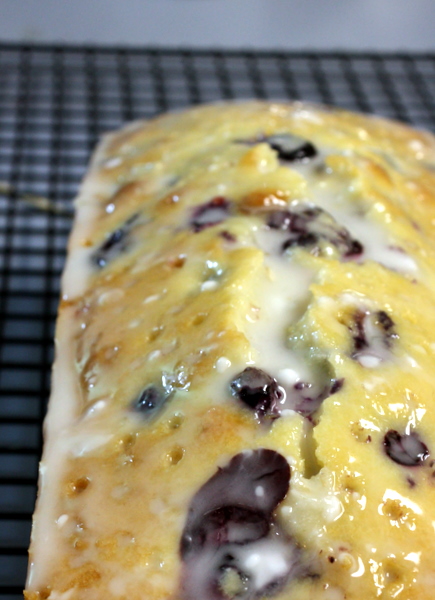 This cake is easy to whip together, hard to mess up, and really refreshing! Lemon is always a winning flavor, and combined with the texture of a sour cream pound cake – it can't be beat!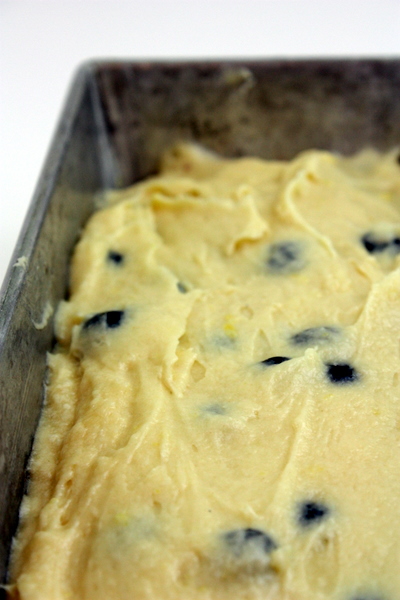 The real star to this show is the lemon glaze – it's sweet and sour and drips all through the cake after your poke a million holes in it!
Lemon-Blueberry Sour Cream Pound Cake with Lemon Glaze
Recipe adapted from a number of places
1 3/4 cups all-purpose flour
1/2 tsp salt
3/4 cup butter, room temperature (plus some to butter the pan)
1/4 cup sour cream, room temperature
1 cup sugar
1/2 tsp pure vanilla extract
1 Tbsp lemon juice
Zest of 1 large lemon
5 eggs, room temperature, whisked together
1 cup blueberries
3 Tbsp lemon juice
2 cups powdered sugar
Preheat oven the 325 F. Butter a 5×9 inch loaf pan.
In a large bowl, mix flour and salt.
In a separate bowl, cream butter, sour cream, and sugar on high until light and fluffy – at least 6 minutes. Scrape down the sides and add vanilla, lemon juice, and zest. Mix until incorporated. While mixing on medium, add eggs in two batches. Scrape down sides and fully incorporate. Mix on low to add the flour mixture in three batches – stirring only to incorporate. Gently mix in blueberries by hand.
Pour into the prepared pan, and bake for 65 minutes – or until your cake tester comes out clean. If the top is browning too quickly, cover with a foil tent.
Let cool 10 minutes in the pan before running a butter knife around the edges to loosen. Let cool completely on a cooling rake before poking holes all over the top of the cake, and pouring the combined lemon juice and powdered sugar over the cake. Slice, and enjoy!
Notes and Tips:
I opted for a runny glaze so it would soak in – not leave a thick layer of sugar on top. If you want a glaze to stay put on top, lessen the amount of liquid in your glaze.