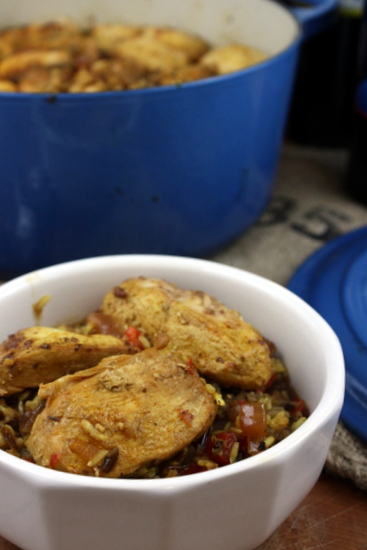 Would you like to come over for dinner? Yeah, I think you would. You definitely SHOULD, because I've been on a roll lately! Am I allowed to say that about myself? I hope so.
By "I've been on a roll lately" I really mean "I've been super busy and not cooking every night, but when I DO it's phenomenal." Really. I feel like this, all the time. Needless to say, I'm not really struggling with self-confidence. Maybe because Montana looks like this right now: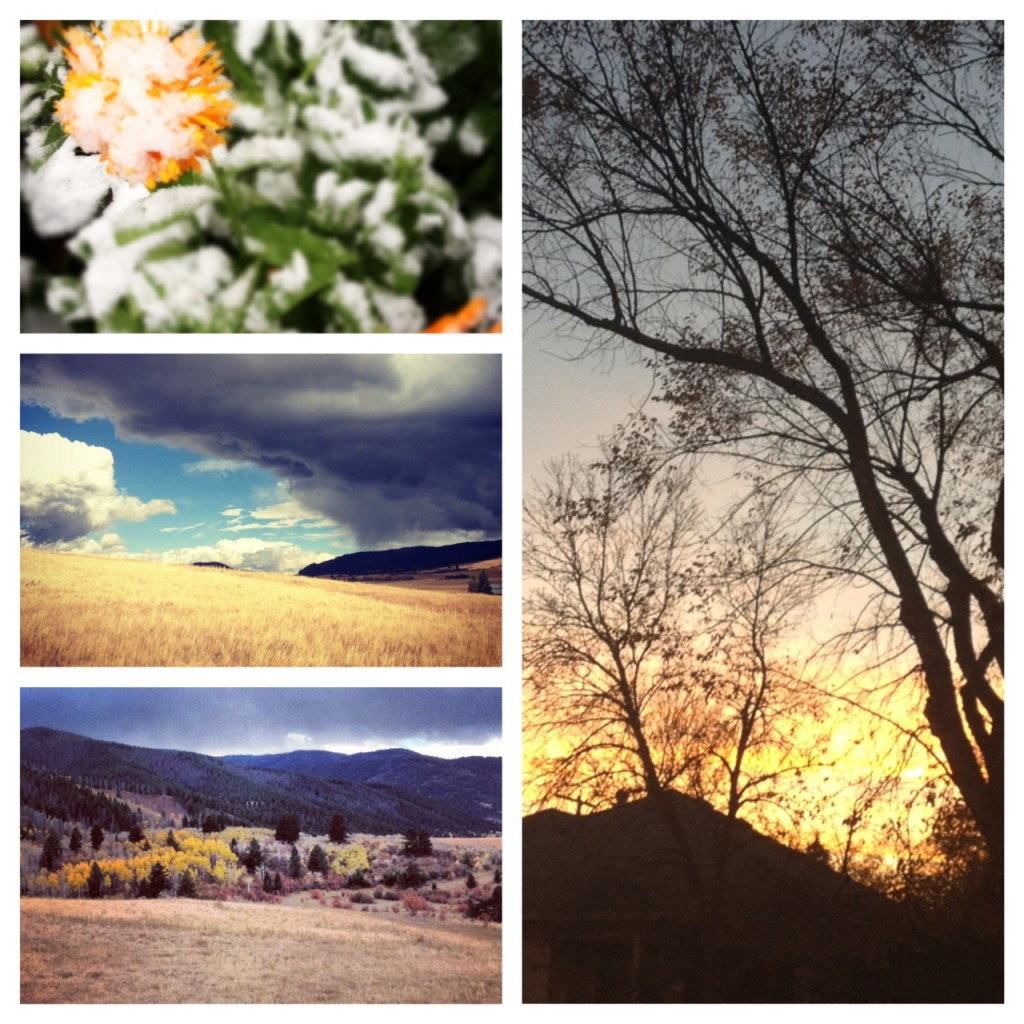 We've been riding and running all over the place to soak it in! It's extraordinary. Having less than 6 weeks left of my current job, and recently signed up for the Napa Marathon, things are busy and exciting around here. Busy and exciting doesn't even being to cover it, actually!
Among the excitement has been a myriad of soups and warm, hearty dinners. I tried this one as part of a last minute gluten-free dinner party last week — and was very pleased with how it turned out! I've never made arroz con pollo before, and I know you generally use bone-in chicken… but I hate having to eat around bones, so I've adapted this to use chicken breasts. You could substitute thighs or wings, I'm sure, if you prefer! I've now made it using chorizo and bacon, both of which work just fine (although I'll admit my preference for the chorizo!). With my new Le Creuset pot, I've been really going to town!
Start with some olive oil in your heavy-duty pot or Dutch oven. Turn it up higher than normal (medium), and add the minced garlic. Cook it for just a minute.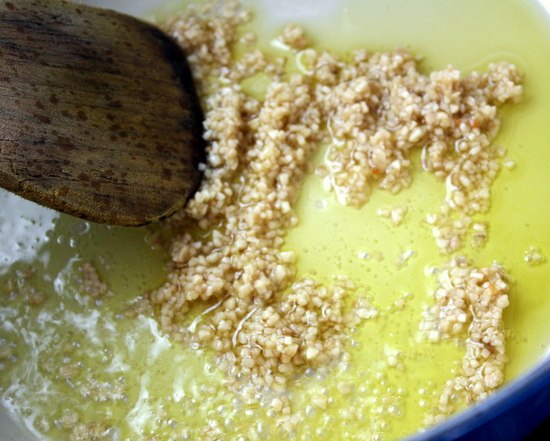 Add the chicken (you may need to do this in batches), and let cook until browned on each side. The point here is not necessarily to cook the chicken through, so high heat to brown the outside is fine.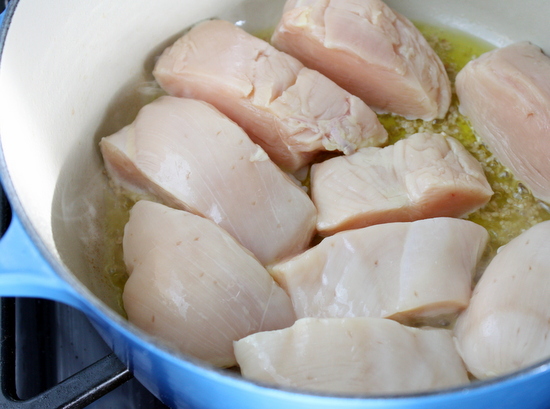 I get impatient and don't always brown it as much as I should, but the browning really gives a better flavor! Don't worry about gunk getting stuck to the pan at this point. The more the better!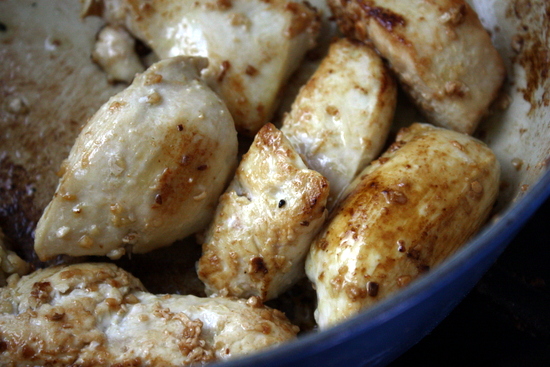 When all of the chicken is done, remove and set aside on a plate. Add the sausage (or bacon), and cook until some fat is rendered. You'll see it! Add the onions, and extra garlic (optional) at this point.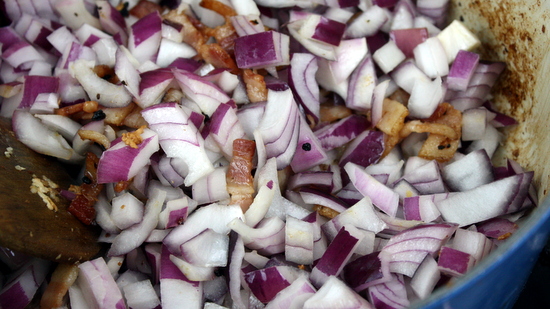 After cooking the onions for a few minutes, you'll add the peppers and wine to de-glaze the pan. Pour the wine in and scrape like the dickens with a wooden spatula! This is where you get the gunk off of your pot: it's all flavor! Scrape scrape scrape! It should be pretty easy, actually.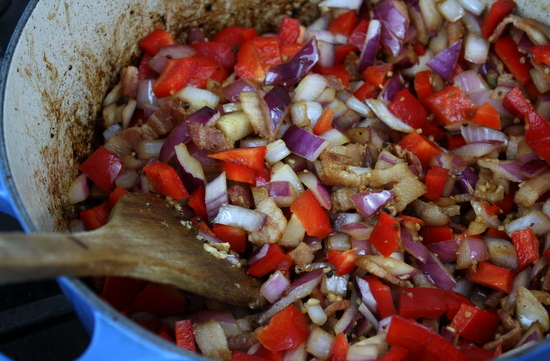 Add the tomatoes, all of the spices, and then the rice.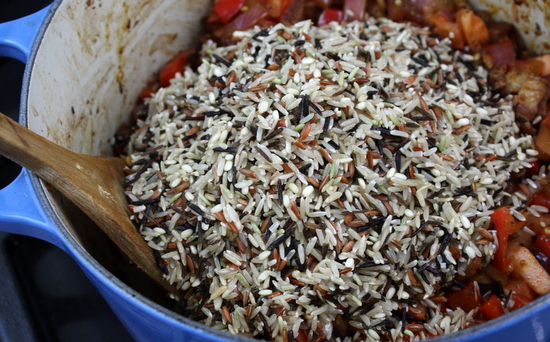 Make sure to mix the rice in completely with the mixture before proceeding.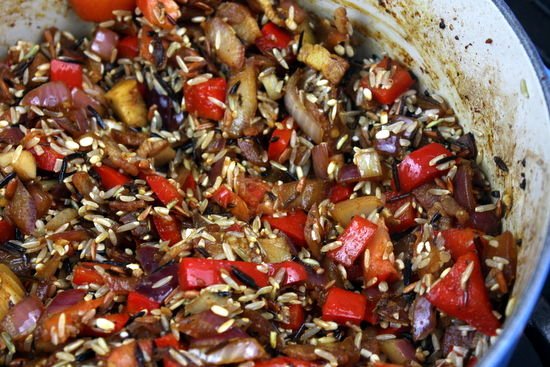 Flatten out the mixture in the pot, then carefully lay the chicken on top of the rice. Make it pretty!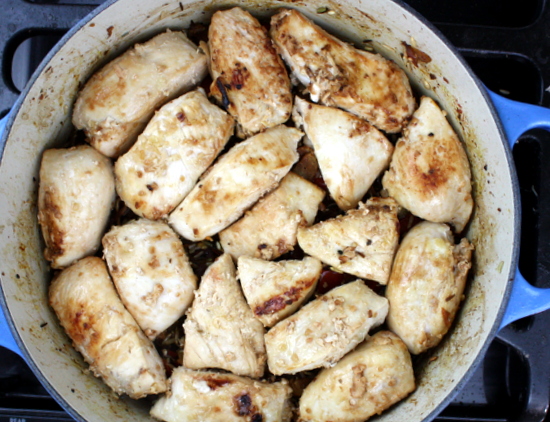 At this point you pour in about 3 cups of broth, so that it just covers the chicken, cover the pot, and let it cook for about an hour. Check on it during the hour, adding more broth as needed — you may end up using 4 cups of broth.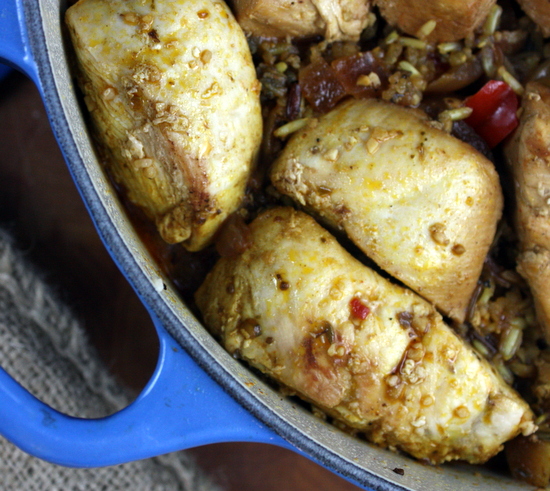 Print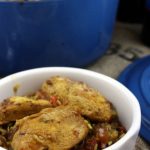 Arroz con Pollo
Author:

Prep Time:

15 mins

Cook Time:

60 mins

Total Time:

1 hour 15 minutes

Yield:

6

-8

1

x
---
3 tablespoon

olive oil

4

garlic cloves, minced

4

large chicken breasts, cut into

2

" pieces

3

chorizo sausages, without skin

1 1/2

large onions, diced

2

bell peppers, diced

1/2 cup

wine (red or white)

3

roma tomatoes, minced

1 teaspoon

cumin powder
Pinch of red pepper flakes

1 teaspoon

ground turmeric

2 teaspoons

dried oregano

1 1/2 teaspoons

paprika
Salt

2

Turkish bay leaves or

1

California

2 cups

wild rice mix, rinced

4 cups

chicken stock
---
Instructions
Pour olive oil into a heavy-bottom pot set over medium heat. Add the minced garlic and cook for 1 minute. Add one layer of chicken and cook until browned on each side. You may need to do two batches to get all of the chicken. When the chicken is browned, remove from the pot and set aside.
Once all of the chicken is removed, lower the heat to medium-low and add the chorizo. Cook until browned and some fat is rendered. Add the onions and more garlic (if wanted). Cook for a few minutes before adding the bell peppers. Cook for about 5 minutes, until the peppers are softening. At this point, have a sturdy wooden spatula ready, pour the wine into the hot pot and scrape any stuck food off of the bottom and sides. It should come off fairly easily, but work quickly.
Add the tomatoes, and all spices (including bay leaf). Mix thoroughly and cook for a minute before adding the rice. Mix the rice into the vegetable mixture, then smooth the top and carefully layer the browned chicken on top. Pour in enough chicken stock to cover the chicken. Lower the heat to LOW and cover the pot. Let simmer for 45 minutes to an hour, adding more stock as needed, until rice is done. Salt as needed, and serve!
---